"A touching essay that explains why animal rescue volunteers do all that they do. Consider becoming a volunteer today so that you can rescue yourself tomorrow."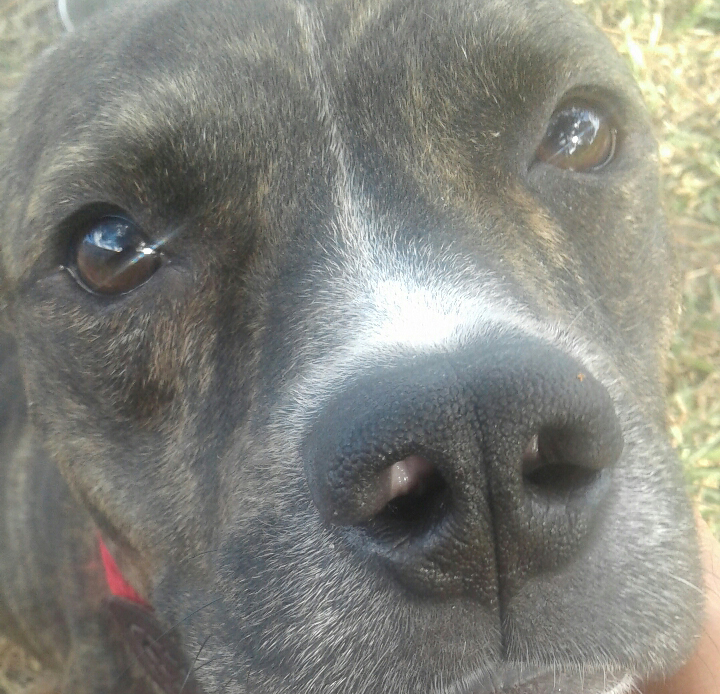 By Michael Groetsch
As I walk into the kennel area of the Jefferson Parish Animal Shelter where I volunteer, I turn to the right where the new strays are housed. The crowded sound of barking dogs craving for attention is deafening. It is almost closing time and the lights have been dimmed in an effort to soothe the anxieties of the many dogs that have recently arrived.
My eyes dart the area in search of a new arrival that yearns for human contact. I immediately focus on a beautiful brindle colored Pit Bull with dark walnut colored eyes. She is curled into a fetal like position in the corner of her small run. I notice her not because she barks. It is because she doesn't. Her entire body shivers like a jack hammer. She is traumatized by her new environment and takes refuge against the far side of the run's cinder block gray wall.
I first try to comfort her with the soft tone of my voice only to watch her tightening more into a ball-like figure. She is incapacitated by fear. Fear of the howls of dozens of dogs that echo through the shelter. Fear of what will happen next. Fear of the unknown.
Before entering her run, I again speak softly in an attempt to comfort her. Suddenly she gives me a positive response by turning her head, wagging her slender tail and making brief eye contact. But she quickly turns away and faces the wall. She seems to think that if she can't see me, I can't see her. I carefully enter her three by six run and continue to reassure her with my voice.
As I cautiously approach, I slowly extend my right hand and begin rubbing her chin to let her know that she is safe. Although it takes 15 minutes or so, she lifts her head slightly and looks at me with affectionate eyes that display a gentle spirit. After convincing myself that she is safe to walk out of the kennel, I place a leash around her neck but she again cowers into a ball-like shape. I realize that it is much too soon to take such liberties. For the next 30 minutes, I sit quietly in her run and give her a tummy rub. It will take a little more time to get her confidence. But I am certain that it will happen.
***
Within 3 days, I return to the shelter and immediately visit my new friend. She has not yet been given a name and has never left her run. As before, she curls up and shivers while staring at the wall. But this time, I have a bag of treats and while rubbing her chin offer her a Milk Bone. She sniffs the treat and looks away. After several trials however, she finally accepts my offering. I realize that I am making marginal progress. After 20 minutes or so, I again place a leash around her neck in an attempt to lead her from the small run to the large doggie yard in front of the shelter. At first, she is non-responsive but suddenly crawls on her tummy until she is outside her kennel. But after 30 feet of hugging the concrete floor, she refuses to continue and becomes 60 pounds of dead weight. In my effort to counter the stand-off, I lift her over my shoulder and bodily carry her to the outside. As I remove the leash and allow her to roam freely in the yard, she carefully sniffs her new surroundings. She seems fixated on a tiny brown spot underneath a small tree. After smelling and inspecting the spot, she looks toward me and seems to seek my approval. "Good girl! Good girl!" I repeat several times. While she remains apprehensive, her wagging tail and accepting eyes tells me that she can be socialized. For the next hour, I allow her to explore the yard like dogs always do. And as the sun begins to set, I stroke her soft fur and give her additional treats and reassurance. I assure her that she is safe. I assure her that she is loved. But as I place the leash around her neck to return to the kennel, she cowers into the grass. As before, I lift her over my shoulders and return her to the kennel. Placing her back into the run, she surprises me by wrapping her paws around my shoulders and licking my face. She conveys that not only does she want to be loved, but can love in return. It is at that moment that I know that she will find a forever home.
***
On my third trip to the shelter to visit my new love, she seems more responsive to my presence. She immediately comes to the front door of her kennel in an effort to greet me. Seizing the moment, I quickly open the gate and place my right hand under her chin and attach a leash to her bright yellow collar. Unlike my last two visits, she slowly walks out of her run on all four legs. She cautiously looks to the right and then to the left but willingly follows me through the hallway into the shelter's main lobby.
It is then that I notice a man and a woman sitting quietly with a small boy in the far corner of the lobby. I hear them tell the child that they will hopefully find a pup he can call his own. But as they address the child, he remains non-responsive and emotionless. He doesn't smile and fails to make eye contact. And then it happens. The man, who identifies himself as the boy's father approaches me but before he can speak, my furry friend begins to run around in circles and joyfully wags her tail in an attempt to get the boys attention. And before I can respond to his father's introduction, the once timid dog embraces and kisses the child as if they have known each other forever. Suddenly the boy reaches out to the pup and begins to hug and call her Kissy. The young boy not only gives her the affection she craves, he also gives her an identity. It is difficult to believe that in less then three sessions with this beautiful animal, she has evolved from a frightened stray who initially shunned human contact into one who now seeks the love of a child.
When the father of the little boy sees the loving interaction, he and his wife begin to cry. They pull me to the side and whisper that their son is artistic. They tell me that he rarely smiles or shows emotion. My eyes begin to tear as I witness the affection between the little boy and the dog he now calls Kissy. When the child's father approaches the front desk and tells the clerk that they do not have to look further, my heart listens to the silent communications of the child and his new best friend. They cuddle and kiss; two lonely souls that are now one. Is it by chance or spiritual design that I have brought together a boy and dog that so desperately need each other? This is why we volunteer. This is why we do what we do. These are the dividends. Consider becoming an animal rescue volunteer today so that you can rescue yourself tomorrow.